This tension-packed approach works particularly well for mysteries and thrillers, but if your writing tends to be lighter on plot, this writing technique might still be a fit. Literary fiction that focuses on mood, attributes importance to the mundane, or dives into a character's psyche might benefit from the "vignette" approach. A concise yet evocative account of a moment in time is often the best way to capture a person, event, or place in a piece that lacks plot.
If writing in English is a challenge for you, you're not alone. An article on the Oxford Royale Academy's website, a leading international summer learning program in the UK, discusses the many reasons why English is a difficult language to learn and write. Among those reasons include:
However, despite these challenges for English language learners, writing in English can be an exciting way to explore how words interact with each other through various literary devices, otherwise known as literary techniques. English language writers have been using these techniques for centuries to make their writing stand out and memorable for readers. In this article, we will explore some of the best English writing techniques to use to take your writing to the next level and move beyond the basics. The best part is—whether you are just learning to write in English or have been writing for decades, these techniques will always enhance your writing and make it more enjoyable for audiences to read.
Metaphor and Simile
Metaphorical writing is the power of poets and should be a part of your daily writing practice if you want to enhance your English writing skills. A metaphor is a figure of speech that forms a comparison, whether implied or implicit, between two unrelated things. In other words, a metaphor draws a connection or resemblance between two different or contradictory things. A simile, by comparison, is a metaphorical expression that uses the words "like" or "as".
Hyperbole is the deliberate use of exaggeration and claims that are not meant to be taken literally. Many times, an expression can contain both hyperbole and simile, such as the sentence used in the paragraphs above, "Her smile is as bright as the sun." The reader understands that her smile was not literally the same as the sun but the hyperbole allows the writer to express emphasis in an engaging and creative way.
Activating the senses
One writing technique that can breathe new life into your work is focusing on the oft-neglected senses. Readers are used to knowing how things look and sound ("he had dark, beady eyes like a hawk; his voice was deep and peppy like a tuba in an oompah band") but you can often add greater dimension to your writing by evoking smells, tastes, and tactile sensations.
Smell
We rarely mention how something smells unless it's exceptionally pleasant or foul — but our noses can remember things our eyes have long forgotten. In writing, a carefully invoked smell can summon a reader's own sense-memory: the smell of freshly buttered popcorn can take you to the lobby of a movie theater; a whiff of bodily fluids masked by disinfectant can transport you to a hospital.
Example: Perfume by Patrick Suskind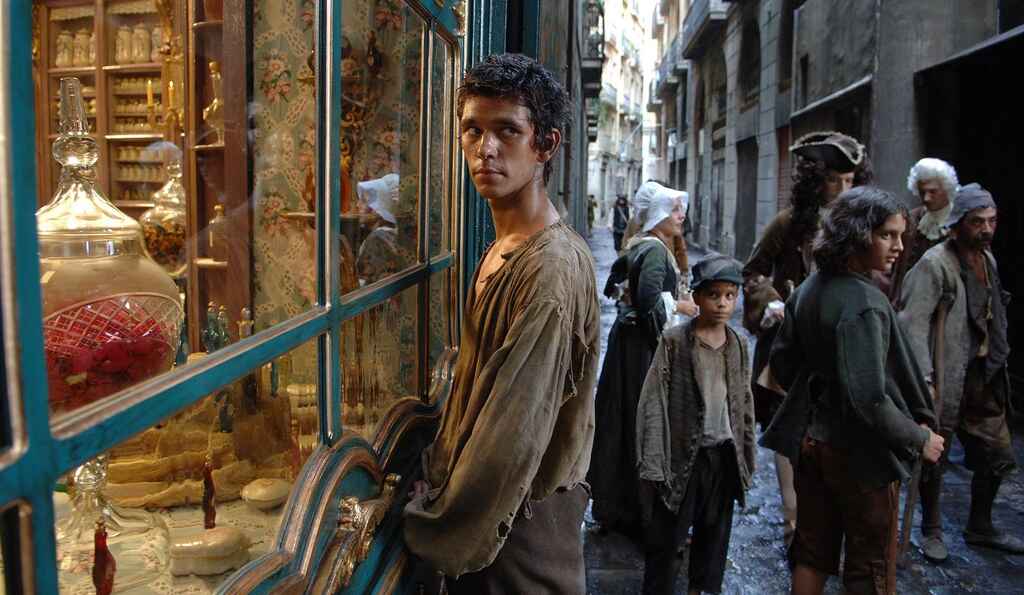 Ben Whishaw in Perfume [Image: Paramount]
In the period of which we speak, there reigned in the cities a stench barely conceivable to us modern men and women. The streets stank of manure, the courtyards of urine, the stairwells stank of moldering wood and rat droppings, the kitchens of spoiled cabbage and mutton fat; the unaired parlors stank of stale dust, the bedrooms of greasy sheets, damp featherbeds, and the pungently sweet aroma of chamber pots.
Taste
Like smell, tastes can have the effect of transporting the reader. Famously, in Proust's Remembrance of Things Past, our narrator savors a freshly baked madeleine that unlocks a trove of childhood memories. In much the same way, you can tap into your reader's shared experience of taste — both delicious and repulsive — to evoke a sensory response that draws them into your character's headspace.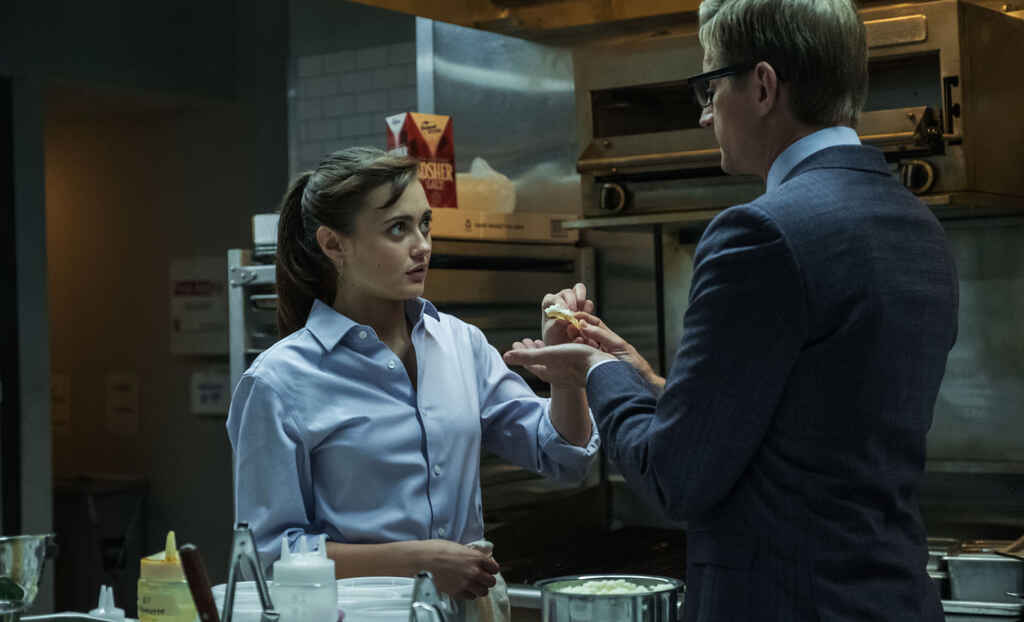 Ella Purnell in Sweetbitter [Image: Starz]
"Wow," I said. And I meant it. I had never thought of a tomato as a fruit — the ones I had known were mostly white in the center and rock hard. But this was so luscious, so tart I thought it victorious. So — some tomatoes tasted like water, and some tasted like summer lightning."
Tactile Imagery
Writing using the sense of touch is about much more than describing the feeling of sand through your fingers or a silk scarf on your shoulders. Though textures are crucial to building a full descriptive picture, touch also encompasses sensations we usually think of as beneath the skin, like sweltering in the heat, prickling with fear, or writhing in agony. Get it right, and tactile imagery can move readers to have a physical experience that's completely immersive.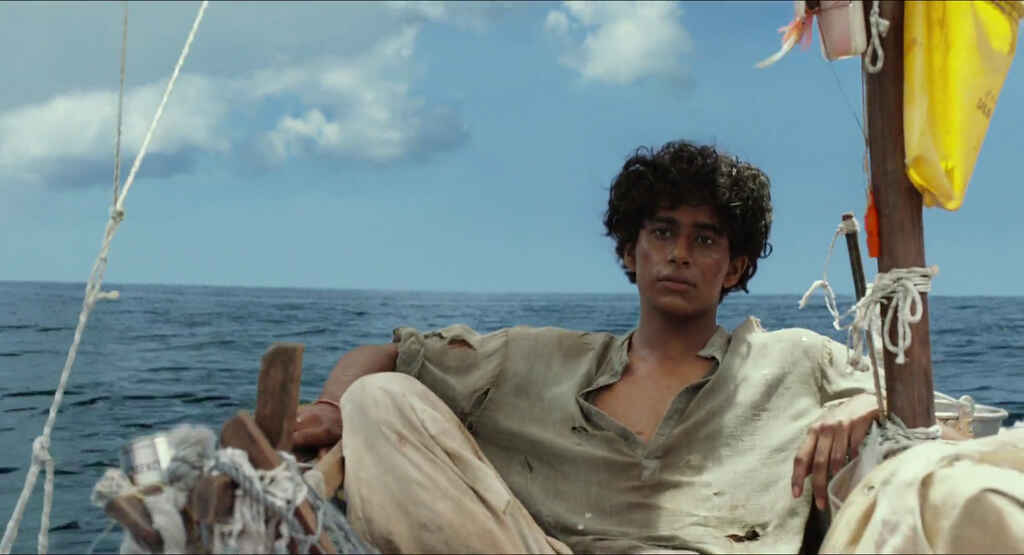 Suraj Sharma in Life of Pi [Image: Fox 2000 Pictures]
Choosing a unique viewpoint
The underlying action of any scene can be presented in countless ways, depending on who's observing it. Suppose in your story a doctor is examining their patient. First, let's describe it from the doctor's point of view:
In both versions, the action of the scene is identical, but the reader's impression of the doctor completely changes depending on the viewpoint. In the first, the doctor is a cool professional; in the second, they're inscrutable — a dispassionate mechanic going through the motions.
Before you draft any book, chapter, or scene, you should always ask yourself, whose story is this, and whose eyes should we see it through? In most modern narratives, the viewpoint character and the protagonist are one and the same — but there are plenty of great reasons to choose another viewpoint character (whether that's for a single chapter or the entire book).
Lend your protagonist an air of mystery
Fitzgerald's The Great Gatsby is famously told from the POV of Nick Carraway, who recollects the summer he moved to New York and befriended Jay Gatsby. A mysterious millionaire on the Long Island social scene, Gatsby's secrets and intentions are gradually revealed to the reader as Nick tells his friend's story.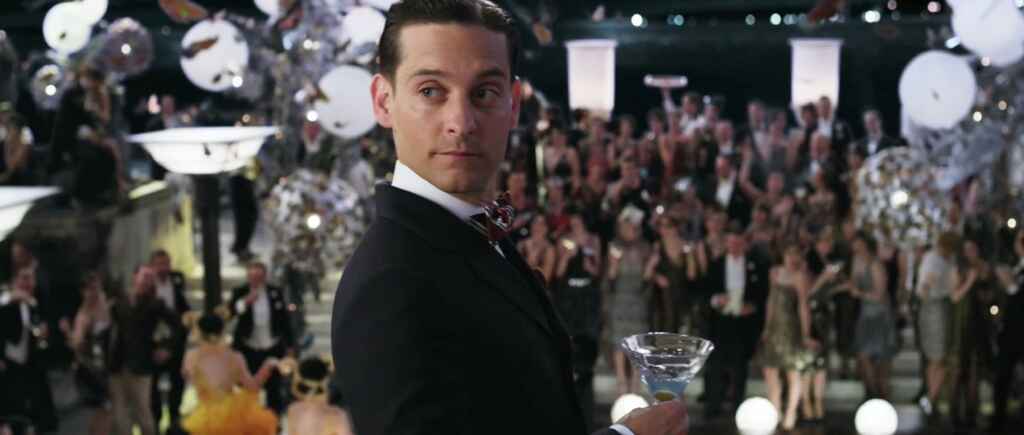 The narrator as outsider in The Great Gatsby (image: Warner Bros.)
For the most part incidental to the events of the novel, Nick is an outsider and a voyeur — yet, as a character himself, his bias filters and colors our perception of the other characters and their actions. Knowing this, the reader never truly feels that they understand Gatsby. This lends an air of mystery to the protagonist and throws a dark veil over the narrative — one which would dissolve if Gatsby himself were the POV character.
Ease your readers into a new world
Quite often, viewpoint characters are designed to be "reader proxies": characters with whom readers will naturally identify. This can be useful if your story takes place in a setting that most people are unfamiliar with.
For example, if your story is set in the secretive environment of a Navy submarine, you might wish to tell it from the viewpoint of a new recruit. Aligning the viewpoint character with the reader can help ease your audience into an unfamiliar world by giving you plenty of opportunities to insert exposition into your story in an engaging way, such as through dialogue or a special device like a manual.
Throw readers in at the deep end
That said, good writing isn't always about making things easy. Readers are pretty adept at playing catch-up, so often enjoy being plunged into a new environment rather than led from the safety of the sidelines.
Sometimes, a viewpoint character who's thoroughly embedded in their community or a veteran in their industry, for example, can provide an illuminating perspective — even if it means initially throwing readers in at the deep end.
What's great about these characters is that their insight allows you to observe the shifts, nuances, and finer details of your setting. This is particularly useful when your story explores a community whose secrets are only known to insiders — like a high school or the Hollywood elite.
Provide an illuminating point of contrast
Though Nick Carraway is an outsider in that he isn't central to the events of the novel, he isn't a true outsider because he doesn't think or behave so differently from the other characters. If Fitzgerald had wanted to create an obvious contrast between the narrator and the protagonist, he might have had the mechanic George Wilson narrate The Great Gatsby — a POV that would have elicited a very different response from readers.
For a POV character to provide a point of contrast, they don't have to exist in an entirely separate circle. If you're writing a historical romance set in a society governed by convention, for example, a viewpoint character who recognizes the snobbery of the company they keep (think Lizzie Bennet from Pride and Prejudice) can prevent the reader from becoming too enmeshed in its way of thinking — adding an element of social commentary or even satire to your writing.
Sources:
https://www.servicescape.com/blog/esl-insights-8-english-writing-techniques-you-probably-didnt-know
https://blog.reedsy.com/writing-techniques/
https://thewritelife.com/5-powerful-writing-techniques/
Writing techniques
Expository writing aims to explain, inform, or describe. It can be difficult to do, but in good expository writing, you need to keep your opinions out of your writing. Pretend you're a journalist, reporting on the facts.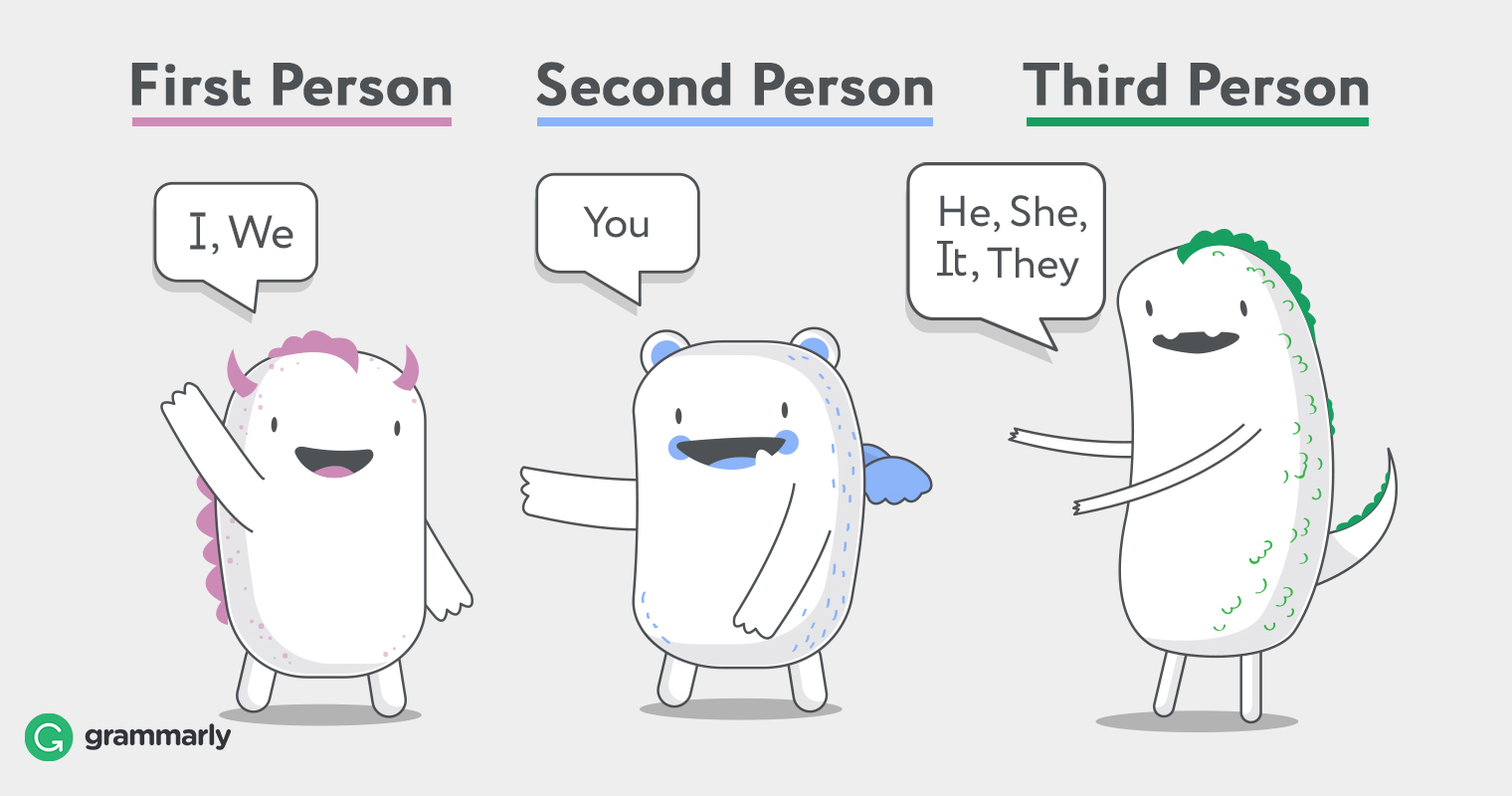 Grammarly Premium Walkthrough Video
Writing techniques refer to different styles and literary devices a writer can use to communicate a message to the reader. Creative writing techniques are particularly important to follow if you plan on having anybody enjoy your writing.
In your career, you'll need to write various types of writing meant for different target readers. Knowing how to apply the best writing techniques can help you adjust your style to the audience you're writing for and reach your goal.
#1: Use metaphors
A metaphor is a literary device where you refer to an object by describing something else similar (especially when readers are more familiar with that something else). Using metaphors isn't desirable when you need to write directly, but there are topics that allow more creativity.
Compared to a metaphor, a simile directly compares two things and can be used much more frequently, albeit often lacking the desired narrative effect that a good metaphor can bring to a story. Metaphors also shine in a poem or a memoir, where similes might fail in that regard for being too unimaginative.
#2: Storytelling
It's one of the most popular writing techniques in marketing. Storytelling allows you to use narration, description, and create the whole event in the mind of your reader. It's particularly useful in persuasive writing, like when you're telling a client's story to gain the trust of a prospective one.
A solid narrative writing technique is critical to master if you plan on telling a story that people will actually want to listen to. It might sound odd, but the fact is that this is even more important for writing something like a short story, when you want to convey a full story in just a few pages.
#3: Use euphemisms
A milder expression used to avoid offending someone or sounding too negative is called a euphemism. If you think your article sounds too pessimistic, you can use euphemisms to make it sound more cheerful. For example, instead of saying that something is annoying, you can use "not very pleasant."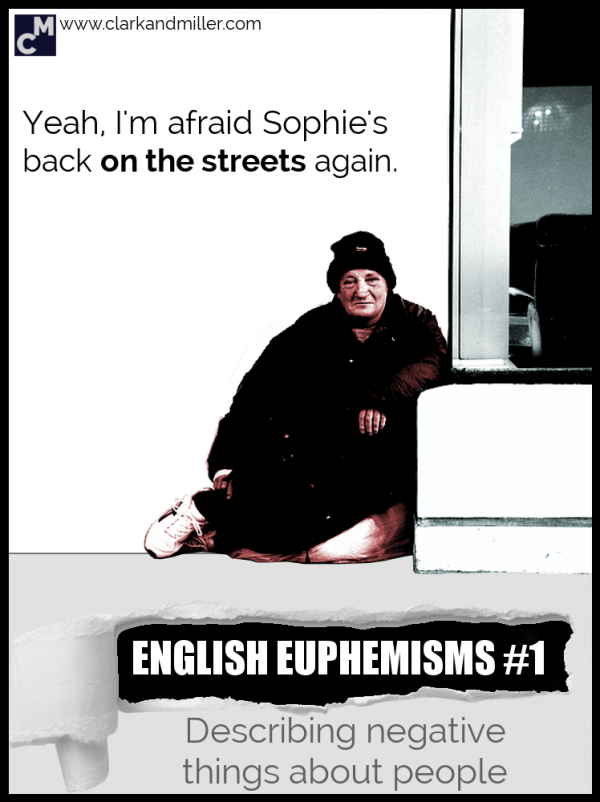 #4: Use empathy
Using emotive language and showing empathy for your readers means you describe their feelings and showing them you understand. This technique makes your writing more relatable and establishes a good relationship between you and your audience.
#5: Be specific
Instead of being vague and using general information, don't be afraid to be more specific when writing. Don't say you use many writing techniques to improve your writing – tell your readers what they are. It will contribute to them perceiving you as an expert.
#6: Use active voice
Putting the verbs in the active voice will make your article more dynamic. When you use too many passive constructions, it can slow down your storyline and make it unclear. But when you express the verbs in the active form, you can encourage your audience to take some action.
#7: Use colloquial language
Sometimes, your topic will require a conversational tone. It's like you're talking to a friend. This technique is common when your readers are young. They can relate better to an article that doesn't feature too many "big" words that they might have to look up. When it comes to things like business writing however, using colloquial language might not be the best idea.
#8: Use hyperbole
When you need to emphasize a point in your article and you don't want to repeat yourself, you can use a hyperbole. It refers to excessive exaggeration, like in the following example: I told you a million times to stop biting your nails.
You can also use this technique for persuasion purposes. Take a look at this example from Mark Twain's "Old Times on the Mississippi." Using hyperbole can often be an effective tool to use in persuasive writing.
#9: Target positive emotions
#10: Use descriptions
Describing is one of the basic writing techniques. Use adjectives and consult a thesaurus to find more picturesque synonyms for your words. It's something like painting with words – you're helping the reader visualize your story. That's why we sometimes don't like the choice of actors when watching a movie based on a book.
#11: Create an unexpected turn
Letting your reader think that the plot will go one way and then creating an unexpected turn of events can make them sit up and listen. The best thrillers are based on this writing technique. Sudden changes in the storyline can make the reader race to the end of the text.
The 4 Top Writing Techniques That Make You A Better Writer
Just like you would wear different types of clothing to different types of events, there are different writing techniques for different purposes. Writing techniques can seem overwhelming to master at first, but don't worry! Read on to learn about the different writing styles out there and tips and tricks to make your writing stand out.
Before you start writing, it's useful to have a clear picture in your mind of who is going to read your work. If you're writing a cover letter for a job you want, you'll have different goals in mind than if you're writing a poem for someone you love. Those goals are going to show in your writing. For a cover letter, you want the writing to be clear, well organized, and free of any spelling or grammar errors. For the poem, grammar is less important, but you have to use a lot of imagery to show your loved one how you feel.
Once you know your audience, you can start thinking about what type of writing is most appropriate for you to reach your goal. If you're writing for school, the job is easy: Usually, your teacher will tell you exactly what type of writing they want you to use. But if you're out of school, it's up to you to figure it out. Here is a list of the common types of writing.
The four types of writing techniques:
1. Descriptive
Descriptive writing is most commonly used in short, creative writing, like poems and song lyrics. Some authors insert descriptive segments in their stories. The purpose of the descriptive writing style is to create a vivid image in the reader's mind.
Metaphors and similes
When you compare one thing to another completely different thing as a way of describing it, you are either using a metaphor or a simile. Duran Duran's song title "Hungry Like the Wolf" is a good example of a simile used in descriptive writing. Do you want to learn more about metaphors and similes? Check out this blog article on metaphors and similes.
Using your senses
Using all the senses, including smell and taste, to describe something can be a very powerful technique when you're doing descriptive writing. For example, instead of writing "The drink was ice cold," you might write something like, "As I drank, I felt the back of my teeth hurt and my insides clench at the shock of the cold water."
Internal rhymes
This neat trick gives your writing a sense of pace and movement without being obvious about it. Internal rhymes are usually challenging to pick out unless you're really looking for them, but they give your poems and songs a little something more. Paul McCartney's songs are full of internal rhymes. "Lovely Rita" is a good example (the internal rhymes are in boldface):
2. Narrative
Narrative writing is a writing technique you use when telling a story. Along with descriptive writing, it's the type of writing that tends to be the most creative, which is probably why many people like it best. When you're being creative, it's okay to bend the rules a little bit, so you don't need to be perfect about grammar (though your writing will look sloppy if you're not careful). Narrative works, like novels and short stories, usually include a bit of descriptive writing in them. Good narrative writers use many literary devices to make their writing stand out. Here is a list of the most common ones.
Parallelism
When you structure all the parts of your sentence for effect, you've created a parallel structure, also known as parallelism. "Love it or leave it" is a good example. Another example is the first two lines of Shel Silverstein's poem, "Hug o' War": "I will not play at tug o' war / I'd rather play at hug o' war." If you rewrite those lines without the parallel structure, it looks like this: "I'd rather play at hug o' war than at tug o' war." It's nowhere near as engaging!
Alliteration
This is when a series of words starts with the same letter. It's a great technique if you want to create a dramatic effect. British tabloids love to use alliteration in their headlines: "Nattering nabobs of negativity" is one example. Alliteration is also lots of fun to play around with, especially if you want your writing to sound over the top.
Great characters with a strong voice
To write a great narrative piece, you need to make sure your characters are interesting and believable. You also need to pay close attention to how your characters talk to others and to themselves. Paying close attention to the characters in your story is super important! If you want to learn more about developing great characters, take a look at this blog article on characters.
Foreshadowing
Foreshadowing is a fantastic tool to keep your reader engaged. In foreshadowing, you give your reader a hint that something is about to happen without giving away any details. Here is an example of foreshadowing: "Mary closed the door to the office, happy to finally be done with the day, and hopped into the elevator. Already focused on the weekend ahead, she did not hear the tinny sound of the telephone ringing at her desk."
Top courses in Writing
3. Expository
Exposition, also known as expository writing, is a type of writing used to explain, inform, or describe. If you're writing a book report, chances are that most of it will be expository writing. Journalism uses this style, as do most essays. Here are some tips to help you.
Know the difference between fact and opinion
It sounds obvious, but many people state an opinion and claim it is a fact. For example, "Gelato has less fat, less sugar, and a lower calorie count than ice cream" is a fact. But "Gelato is healthier than ice cream" is an opinion because "healthier" is a value judgment: It is not measurable. Check your work for comparatives and words like more, most, less, least, better, and worse to ensure you aren't stating opinions as facts.
Stick to the third person
The third person is when you use pronouns like he, she, it, or they. If you see I in your writing, you're probably stating an opinion, which is generally discouraged in expository writing. If you see you in you're writing, you're probably being too informal. Learn more about how to write in third person in this blog.
Sources:
https://codeless.io/writing-techniques/
https://blog.udemy.com/writing-techniques/
https://www.allassignmenthelp.com/blog/writing-techniques-why-its-important-to-the-writers/
Writing techniques
For one thing, it's time to ditch the tired five-paragraph essay and write from a more "authentic" place. That means placing primary emphasis not on an introduction, three-body exposition and conclusion, but rather on what the piece calls for. Encourage students to take as many paragraphs as they need to express their idea well, and to be creative in their intros and conclusions.
The 5 Most Commonly Taught Writing Styles
By placing a significantly higher emphasis on a variety of writing types, we can help address the challenges regarding student writing proficiency. This is especially important in the middle school years, when students are transitioning from the foundational skills they learned in elementary school to the deeper levels of thinking required in high school and beyond.
If you have a teaching degree, it's likely you've already learned about or taught many of the following types of writing styles. Whether you're familiar with all of them or need to brush up on several, there are guaranteed to be new approaches with which you're not yet familiar. That's the goal of this post: to give you the tools you need to maximize your students' learning experience, writing skills and persuasive power.
The most common types of writing styles differ from their intended purpose to their structure to the level of emotional appeal for which they call. Understanding how each of these categories contributes to each type of writing will help you teach students to express themselves more proficiently, as well as reach higher levels of proficiency on state and national tests.
We Are Teachers defines narrative writing as "writing that is characterized by a main character in a setting who engages with a problem or event in a significant way. As writing instruction goes, narrative writing encompasses a lot: author's purpose, tone, voice, structure, in addition to teaching sentence structure, organization, and word choice."
You can assign students a wide variety of narrative writing assignments, from personal narrative to fiction to "fan fiction," or stories that use main characters from books students love. For instance, a student could write a short story about one of Harry Potter's untold side adventures.
Teaching students to weave all of these elements together will take time, which is why each lesson should cover no more than one of the above. As students check off each item, they can incorporate it with the ones above. Eventually, the result will be a well-fleshed-out story they can be proud to share with the class and their family.
Craft And Technique Tips For All Writing Genres
9 Rhetorical Devices You've Never Heard Of But Might Already Be Using—In addition to familiar rhetorical devices like metaphor and alliteration, many literary techniques with obscure-sounding names also add impact to your writing. In fact, you're probably already using them—at least occasionally!
7 Tips For Writing Realistic War Stories—Writing about war can be tricky: Some readers might be sensitive about graphic depictions of war and violence; others may have a hard time understanding what's happening if you don't go into detail.
4 Creative Essentials For Better Sports Writing—You might think that writing about sports is limited to news articles and sound bites. But with the right training (and eating your Wheaties), you can develop the skills to write about sports creatively and effectively.
Writer: Make Figurative Language Work For You! If you know how to use figurative language correctly, you'll add color and life to your writing. Here are different types of figurative language and tips on how to make them work in your writing.
5 Writing Tips To Improve Your Final Draft. The experts at Writer's Relief know that there's a good chance you still have more work to do before you're ready to submit to literary editors and agents. Use these writing tips to improve your final draft and boost your odds of getting published.
5 Tips For Writing A Multi-POV Short Story Or Novel. While using multiple POVs can make your writing dynamic and hook your readers, it can be very difficult to pull off—there's a lot to juggle! Here are some tips for writing a successful multi-POV short story or novel.
Cool Writing Tips…From An Ice Cream Scooper. Here's the scoop on how to entice and delight an audience right from an expert—an ice cream scooper at an ice cream shop. Turns out there's more to pick up from behind the ice cream counter than a stray M&M or sprinkles!
How To Bring Your Old Writing Back From The Dead. Your buried, unfinished projects or old submissions might just garner your next acceptance letter. Here's how to effectively revive your old writing and breathe new life into your acceptance rate.
Writing With A Co-Author: The Pros And Cons. Some writers choose to collaborate with a co-author to share responsibilities. However, working with another writer can also introduce new hurdles to overcome. Here are the pros and cons of writing with a co-author.
Why You Should Leave "Gaps" In Your Writing. A skilled writer understands the importance of letting readers interact with the text so they can fill in the details that are left out (aka the "gaps"). Here's how to successfully leave gaps in your writing for your readers.
Know When To Give Up On A Writing Project. Should you keep trying, or give up on a piece that seems to be going nowhere? To guide you in making that decision, the experts at Writer's Relief have a list of signs to help you know when to give up on a writing project.
How Using Analogies Can Improve Your Writing. An analogy is a great way to get your readers to use logic, make inferences, and understand highly specific dynamics. Here are our best tips on how using analogies can improve your writing.
Interesting details about setting and location
Few writers get it right first time. Once you've written a first draft, read through it and think about whether the order of your points is optimal and whether what you've written actually makes sense. It's easy in the age of computers to chop and change – you can simply copy and paste part of your essay into another part where it might fit better, and then make minor changes to your wording so that it flows. After you've finished editing, have a final read through and check that you're happy with the wording. Don't forget to proofread to ensure that your spelling and grammar is impeccable!
Keeping a notebook to hand helps you gather good ideas when they come to you.
Creative writers swear by having a notebook with them at all times, ready to jot down any ideas that suddenly spring to mind. You can adopt the same principle for your essay-writing, because you never know when the inspiration might strike. Have a think about your essay topic when you're out and about; you'd be surprised what occurs to you when you're away from your normal place of study.
As you can see, there are more similarities between two apparently unrelated kinds of writing than you might have realised. It is, of course, possible to go too far with the creative writing idea when you're essay-writing: literary devices aren't always appropriate, and your essay still needs to retain objectivity and conform to the more formal conventions of academic writing. But there are certainly techniques to be borrowed from creative writing that will help your essays stand out from the crowd and give your teacher or lecturer a welcome break from the monotony of essay-marking.
Sources:
https://marcolearning.com/types-of-writing-styles/
https://writersrelief.com/writing-techniques-and-craft-tips/
https://www.oxford-royale.com/articles/techniques-creative-writing-improve-essays/